MAGDALENA CHATTOPADHYA, ESQ., CFLS*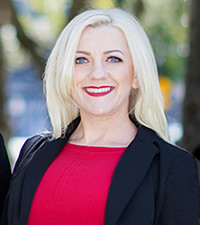 Magdalena is a Certified Family Law Specialist by The State Bar Of California Board of Legal Specialization. Magdalena handles all aspects of family law: divorce, legal separation, marriage annulments, domestic partnership termination, establishing or disputing parental relationship, domestic and international child custody and visitation, emergency screenings, brief focused assessments and child custody evaluations, child support, spousal support, property division, domestic violence restraining orders, move away orders, and registration of foreign support judgments, to name a few. Embracing the team approach, Magdalena leads her legal team and clients towards the desired outcome by forming a legal strategy at the consultation stage, filing court documents on behalf of clients, appearing in court, negotiating settlements, or proceeding with trials where no reasonable settlement can be reached.
Family law disputes can be emotionally draining. Magdalena firmly believes that the value of a case is measured not just by how much money the parties are fighting for but also the impact the prolonged litigation will have on their lives. The training and experience gained as a certified mediator and a seasoned litigator, have made Magdalena a creative problem-solver and a tough negotiator. Many of Magdalena's clients have benefited from the out-of-court settlements efficiently negotiated on their behalf, which helped them move forward with their lives and avoid having to go to court.
Magdalena has completed more than 30 trials. She has recently passed the National Board of Trial Advocacy Family Trial Advocacy Certification Examination and is currently working on fulfilling other requirements to become a Certified Family Trial Advocacy Specialist. Magdalena has been honored with numerous awards, including the Super Lawyers Rising Star award for 2015 through 2018 - an honor reserved for no more than 2.5 percent of attorneys in California. Commitment to excellence in legal representation and customer service has also earned Magdalena the Avvo Client's Choice Award, Martindale-Hubbel Client Champion Award, and The National Association of Distinguished Counsel's Nation's Top One Percent.
Prior to becoming a family law attorney, Magdalena, who is bilingual in English and Polish, was an English as a Second Language teacher in Poland, a child advocate, a mediator, a judicial extern, and a law clerk for multiple civil litigation law firms. Outside of work, Magdalena enjoys traveling, exploring new restaurants, and sudoku.
*Certified Family Law Specialist, The State Bar of California Board of Legal Specialization